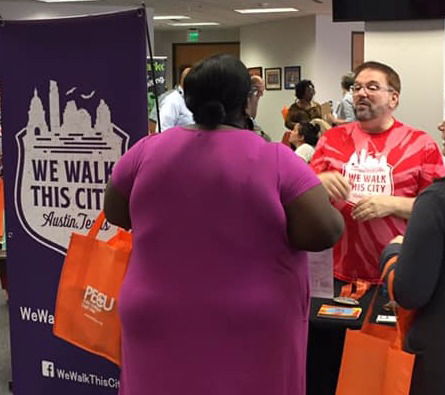 When and where do we meet for training? We meet every Saturday morning at 6:45 am, for a 7am start. Our Saturday morning training begins in the parking lot of the Austin Recreation Center/House Park stadium at 1301 Shoal Creek Blvd. Please arrive at 6:45 am for general training tips and information. We do not have access to the buildings, but there is a public restroom at the skate park located in the same area. We occasionally may have special events when we meet at an alternate location. You will be notified via Facebook or Website in advance if we are not meeting at the Austin Rec Center.
How do I know the route? Every Friday, we will post the Saturday route by mid-afternoon on the We Walk This City Facebook page. The routes for entire season are also provided on the website, the password will be provided to members.
How long does each training session last? We start each Saturday at 7am. You should expect a normal Saturday to last at least one to two hours. As your mileage increases, the session may take over three hours if you are training for longer distances.
Do we walk in bad weather? We are all-weather walkers, and encourage walkers to dress appropriately for cold, heat or rain. If the weather threatens walkers' safety, such as lightning in the area, ice or potential flooding, we will cancel. We will post cancellations by 6:00 am on the We Walk This City Facebook page. If you are not a Facebook user, notify Elayne 512-658-4269 or WeWalkThisCity@gmail.com to arrange for an alternate method of notification.
Should I bring anything with me on the training walk? We recommend you always bring your phone, a form of ID, a copy of the route and water. Share your cell number with the members you walk with and make sure you have Elayne or Tammy's number loaded in your phone. You may want to carry insurance information or enter your emergency contact information into your phone.
Can I bring my pet or children? We love both kids and pets, however they may not participate in the training program. This is an adult training program. Our training routes are on open roads; we cross unprotected intersections and routes may not have sidewalks.
What if I arrive late to a training session? We encourage everyone to arrive by 6:45 am so announcements can be made prior to walking, and we can begin promptly at 7:00 am. If you arrive after 7:00 am we will already have left to begin the walk.
Will I receive individual, personalized coaching and training? We are a cooperative, group walking program, and do not provide personal training or coaching. We do provide walking tips, best practices, and loads of personal experience. This allow fees to be inexpensive. When you join a 12-week session for $50, you receive a very nice technical shirt with a value of $20 and invaluable health benefits. We believe the program is worth every penny!
What if I don't know anyone else in the group? How do I know who walks the same pace and I do? It can take a few sessions to find a rhythm in any new program. There are different pace groups and it may take a couple of weeks to connect with the best group. Unless you're a seasoned walked, we recommend you start with a slower paced group or member. As you adapt to the distances and a faster pace, you are free to change it up. We are a friendly group and walking allows us to carry on conversations during our training and make new friends. Over time, you will learn which group best matches your pace, but you are always free to change it up from week to week. Arrive by 6:45 am and we'll be able to pair you with an appropriate group or walking partner. You will find a great home with We Walk This City.
How do I know if I am doing the correct exercises listed in the summer training? Look on Facebook look under the Notes sections for examples. The exercises are designed to complement your walking program when we are doing shorter distances in the summer. If you are concerned about correct form, please ask a coach or your walking partner.
What should I do if I get injured while on the training walk? While it's very important to be aware of your personal fitness level, traffic and sidewalk conditions, accidents or injuries can occur. We recommend you always walking with a fellow member, they can provide help or report any incident as needed. Report any incident to Elayne Barber @ 512-658-4269 or Tammy @ 512-848-7777 or the Co-Op member that is acting at lead for the date you are walking. We do not have trained first aid available on training walks and you are responsible for your own care.
When is each training season scheduled to start? The training season and duration per season can be located on WeWalkThisCity.com. Each Saturday time commitment maybe different as they are based on mileage increase per week to achieve the distance goal. Generally, a training season starts with shorter walks of 2 miles, and mileage increases weekly depending on your goals.
Do we receive an email or newsletter? We send emails with special announcements and updates. All information can be located on WeWalkThisCity.com and the We Walk This City Facebook page. Notices are sent to all members with valid email addresses. We do not publish a regular newsletter.
How do I know if I'm a member? During registration each member pays the fee for the season and must sign a waiver to participate. The waiver is located on WeWalkThisCity.com, or it can be completed at training when you register. If you did not sign a waiver and pay a fee, you are not a member.
How do I get in touch with We Walk This City? You can email WeWalkThisCity@gmail.com, or message us on the We Walk This City Facebook page. If you need help immediately contact Elayne Barber 512-658-4269 or Tammy 512-848-7777 by phone or text.